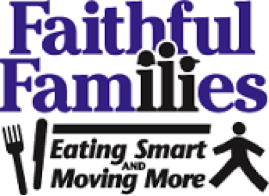 The ODHDSP grant is supporting efforts throughout the state of North Carolina to build capacity of Faithful Families Facilitators to facilitate the Faithful Families Eating Smart & Moving More program and providing enhancements to Faith Organizations to sustain the health momentum within their organization.
Our Goal
The goal of this project is to make the healthy choice the easy choice where we live, work, play, and pray. The Faithful Families program is a collaborative project between North Carolina Cooperative Extension, the North Carolina Division of Public Health, and your local Health Department. The Faithful Families initiative will help to improve the health of North Carolina residents where they pray, through the development of a "Practice Tested Intervention" by the Centers of Excellence Training and Research Translation at UNC Chapel Hill and implementation of evidence based strategies to sustain healthy changes within your faith organization. Faithful Families is the first faith based initiative to achieve this status.
Here's what we have to offer faith organizations looking for help with health promotion activities in their organization and community:
Assessment: ODHDSP staff will first work with your organization to understand what level of wellness program you seek and what you currently offer. First and foremost staff will work with you and the lay leader to complete the Faith Community Assessment (FCA). The report will identify any gaps, opportunities, and priorities relating to health promotion and will be used for evaluation, guidance, and technical assistance for your organization.
Implementation: ODHDSP staff will assist you with a Faithful Families ESMM tool-kit that covers everything from establishing a wellness committee to action planning and implementation. Using the Faith community Assessment as a guide, ODHDSP will assist by providing technical assistance and communications supports relating to physical activity, nutrition, stroke, hypertension, and diabetes prevention. Staff will connect you to Faithful Families Facilitators in your community to initiate the Faithful Families Program within your faith organization.
Evaluation: Using the results from the Faith Community Assessment and the Faithful Families ESMM program data results, ODHDSP staff can assist your faith organization in evaluating your progress towards goals. ODHDSP can also support your faith community with enhancements that will help sustain healthy behaviors in your faith community.
If your faith community is looking for a fun, interactive way to become healthier, please contact Melissa Rockett. Participating is simple and there is technical and financial assistance available!
We'd like to recognize the Faith Communities in Region 7 that have partnered with ODHDSP by implementing the Faithful Families Program and are making healthy changes within their faith community environment:
Halifax County:
Kingdom Empowerment Ministries
Johnston County:
Four Oaks Methodist Church
Micro Free Will Baptist Church
Nash County:
Emmanuel Chapel Free Will Baptist Church, Rocky Mount
St. Paul Baptist Church, Rocky  Mount
Wake County:
Lincolnville AME Church, Raleigh
Resources:
Faith Community Assessment
Faithful Families Eat Smart Move More
Planning Guide for Faith Communities
Shared Use by North Carolina Faith Based Organizations