Local Health Departments and agencies dedicated to improving community health throughout Region 7 counties (Franklin, Granville, Halifax, Johnston, Nash, Wake, Warren, and Vance Counties) are partnering with Transforming Health Together to offer the North Carolina Diabetes Prevention Program.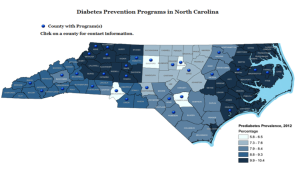 With nearly 1 out of 3 Americans pre-diabetic and not aware of their condition, it is imperative that we begin taking a stand now in the fight against type 2 diabetes. Further, nearly 40% of NC residents have not had their blood sugar checked within the past year and may not even know they are at risk. Not only does diabetes cause major health complications and high medical costs, but people who develop type 2 diabetes can lose as many as 15 years of life.
The diabetes prevention program consists of 16 group classes and multiple one-on-one support sessions with a trained lifestyle coach. By the end of the program participants will know how to:
Maintain a healthy weight
Prepare simple, healthy meals
Find time to be physically active
To find a diabetes prevention program near you visit diabetesfreenc.com or contact a local Diabetes Prevention Program provider from the list below:
Benson Area Medical Center
Community Care of Wake and Johnston County
Creedmoor Drug Co.
Franklin County Public Health Department

Contact Shanta' Garner at sgarner@franklincountync.us or by phone at (919) 496-2533

Granville-Vance Public Health Department
Halifax Public Health Department
Johnston County Public Health Department

Contact Melissa Rockett at melissa.rockett@johnstonnc.com or 919-989-5264

Nash County Public Health Department

Contact Jerome Garner at jerome.garner@nashcountync.gov or (252) 459-9819

REALO Discount Drugs, Four Oaks, NC
Warren County Public Health Department

Contact Hilda Baskerville at hildabaskerville@warrencountync.gov or (252) 257-1185

YMCA of the Triangle 
In order to qualify as a DPP participant, an individual must:
Be at least 18 years old, and
Be overweight (body mass index of 24 kg/m or greater; 22 or greater if Asian), and
Have no previous diagnosis of type 1 or type 2 diabetes AND ONE of the following in red:
If you're unsure of whether you're at risk for type 2 diabetes take this free online screening in the video below:
If you would like to get involved and learn more, please contact Melissa Rockett, melissa.rockett@johnstonnc.com to learn more about our Regional Diabetes Collaborative and Prevention Work.
Resources