WELDON — Halifax County employees are currently celebrating Walkability Week this week, it's part of the county's Working on Wellness (WOW) program.
Employees gathered at the Halifax County Department of Social Services Thursday morning to take on the track around the facility.
According to EB Odom, dietician with the Halifax County Health Department, county employees were challenged to complete a survey concerning walker-friendly environments in their neighborhood.
The surveys were turned in by employees at one of the two organized walks — DSS Thursday morning and Historic Halifax Thursday afternoon. About 60 total employees participated in the walks.
Odom said survey results will be used by the Community Transformation Project "to move forward in showing our community leaders that planning for healthy living is important and needed."
The two walks were designed to help people connect to each other, which was apparent as walkers rounded the track talking and smiling in their groups.
Wellness Coordinator for Halifax County Denise Norman said the county encourages employees to walk every day, but Thursday, special emphasis was placed on the activity and everyone in county departments were invited to the group walks.
"It helps with stress management and good health," Norman said, adding WOW helps employees manage their health through free programs at local gyms, information on healthy eating and other perks.
Norman said she has 376 employees participating in WOW, and the county manager and staff support the effort.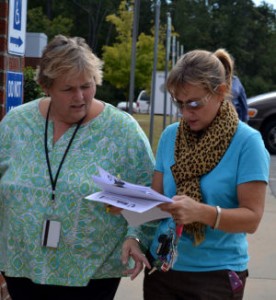 "It's a program committed to healthier, happier employees in the workplace," she said.
Sue Braddy, of DSS, said she uses the walking track every day before she starts work, and walking one half mile each break.
"I quit smoking a year ago," she said. "I gained some weight, and I haven't lost any, but I feel better when I walk. Having a track here, I can exercise in the daylight hours."
Brenda Pearson, also with DSS, said she likes the WOW program, and the county is encouraging employees to walk.
She said she can see it is helping her and her colleagues better cope with the additional stresses they are facing daily.
"It gives you a breath," she said. "You can go back inside and cope with whatever is facing you."
She said she uses the DSS track regularly, and has seen lots of people who visit the track.
Wendy Woodruff said DSS employees aren't just using the track, they also walk a lot inside.
She said the upstairs has air conditioning and about 40 people use that area to walk it out.
Walkability Week is a statewide movement and is presented through the U.S. Environmental Protection Agency with funding from the North Carolina Community Transformation Grant Project and the Centers for Disease Control and Prevention.