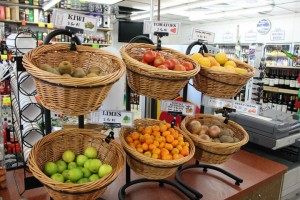 You've probably heard the phrase, "You are what you eat." If you think about it, it rings true: When you eat a well-balanced diet you increase your chances of being healthy. Likewise, when you consume high-fat, high-salt, or sugary foods—and drinks with sugar in them—this may increase your risk of diabetes, high blood pressure, heart disease, and other diseases that could cost a lot of money to treat, and affect your ability to live fully.
That's why eating right is so important.
Like most people, you probably don't have much time left between work and other commitments. It's twice as hard if you live in a neighborhood that doesn't have a grocery store that stocks healthy options like fresh fruits, vegetables, whole grains, low-fat dairy, and lean meats.
The good news is that you can do something about it. You can talk to your neighbors and others about asking for healthy foods at your neighborhood store. More importantly, you can talk to the store owner or manager about stocking what you need.
"When a customer comes in and asks me to carry something, we try to get it for them," says Candelario Zamora, co-owner of Nena's corner market in South Omaha, Nebraska. "For example, we started stocking papayas at someone's request, and now it's hard to keep up with demand. Not only are papayas a healthy option for customers, selling more of them boosts our bottom line."
"Stocking and selling more fruits and vegetables is great for business," agreed Angela Zamora, Candelario's wife and Nena's co-owner.
Nena's now makes healthy living even easier by displaying healthy options in a way that catches customers' eyes. Through funding from the Centers for Disease Control and Prevention, the local health department helped the Zamoras with new displays, signs, and other ways to promote healthy eating.
"I'm diabetic and always looking for healthy foods; that's why I come here, for fruits and vegetables," said Nena's customer, Concepción. "Buying fresh fruits and vegetables wasn't always this easy in this neighborhood."
While stocking healthy options is up to the store owner, you can make a difference. If you can't find healthy options at your neighborhood store, you can talk to members of your community; contact your local health department; or go directly to the store owner or manager.
For other tips on making yourself and your community healthier, visit www.MakingHealthEasier.org.