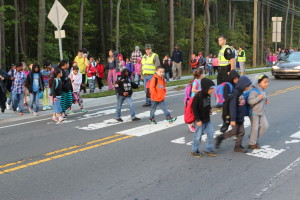 Active Routes to School is a North Carolina Safe Routes to School (SRTS) Project supported by a partnership between the N.C. Department of Transportation and the N.C. Division of Public Health. The goal of the project is to increase the number of North Carolinians that meet the physical activity recommendations by increasing the number of elementary and middle school students who safely walk and bike to or at school.
The Active Routes to School project is federally funded and will span through June 2019. Ten Active Routes to School Regional Project Coordinators are working across North Carolina to implement this project. The project will focus on providing safe, appealing environment for walking and biking, improve the quality of our children's lives and support national health objectives by increasing physical activity, reducing traffic, fuel consumption, and air pollution in the vicinity of schools.

What are the benefits of Active Routes to School?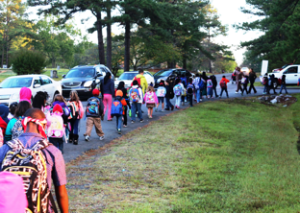 Improves the safety of pedestrians and bicyclists
Reduces traffic congestion and car emission around the schools
Improves children's health
Provides cost savings for schools (reduces need for hazard busing)
Teaches fundamental safety skills
Benefits the local economy by funding construction projects
Increases child's sense of freedom and responsibility for older children
Provides more transportation options for everyone
Goals
Work with partners in our communities to increase
Awareness about the importance of SRTS (i.e. National Walk & Bike to School Days),
The number of programs that encourage safely walking and biking to or AT school (i.e. monthly walking school bus, Walk Across America, etc.),
The number of trainings on how to implement SRTS (i.e., bike rodeo, Let's Go NC),
The number of policies that support safe walking and biking,
The number of safety features near schools (within 2 miles), such as sidewalks, crosswalks, and bike lanes
Contact your Active Routes to School Regional Project Coordinator, Nicole Westley, to learn more about this project in your area.
Resources
Safe Routes to School Partnership 
http://saferoutespartnership.org/
Walk Bike to School 
http://www.walkbiketoschool.org/
ARTS Newsletters
Active Routes to School Newsletters